I'm Not a Runner is a film about tenacity, strength and the power of learning to trust and enjoy what your body can do. It's about facing your deepest fears and learning to celebrate your body and overcome doubts about the way you look and about whether you're good enough. It's about five brave women who go from their couches in Adelaide, Australia to take on the TCS New York City Marathon.
Overview.
"I can do anything. There are no limits. I won't let anybody else define me."
Who would argue with any of that? We all know: this is absolutely true.
But women all over the world are asking themselves: if it's true, why don't I live like that?
The answer: because maybe, deep down, we don't always really believe it.
This is the story of five very different women who literally run into the rarely seen or shown truth of their own self-doubt. A journey into the very heart of their own limitations to find who and what might be waiting if they can come out the other side and perhaps change their story and challenge who they and everyone else think they are.
In New York they will stand, far from home, on the starting line of the world's biggest marathon, to take on one of the most extreme physical challenges, under extreme public scrutiny.
If you asked them to describe themselves, they'd give you all sorts of answers - I'm a mum. I'm a police officer. I'm a businesswoman. I'm a grandmother.
But there's one thing they'd all say. Even as they lean forward, waiting for the starter's gun:
"I'm Not A Runner"!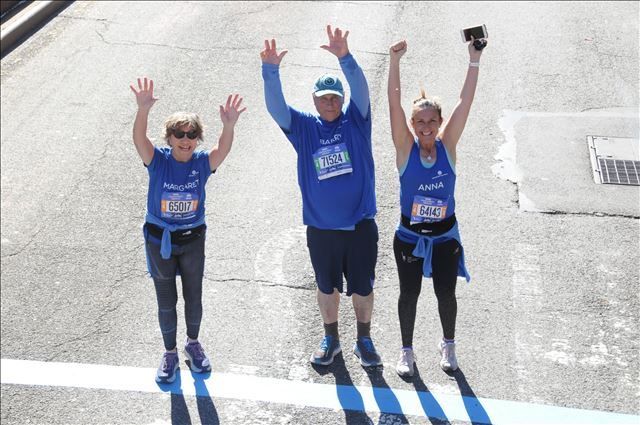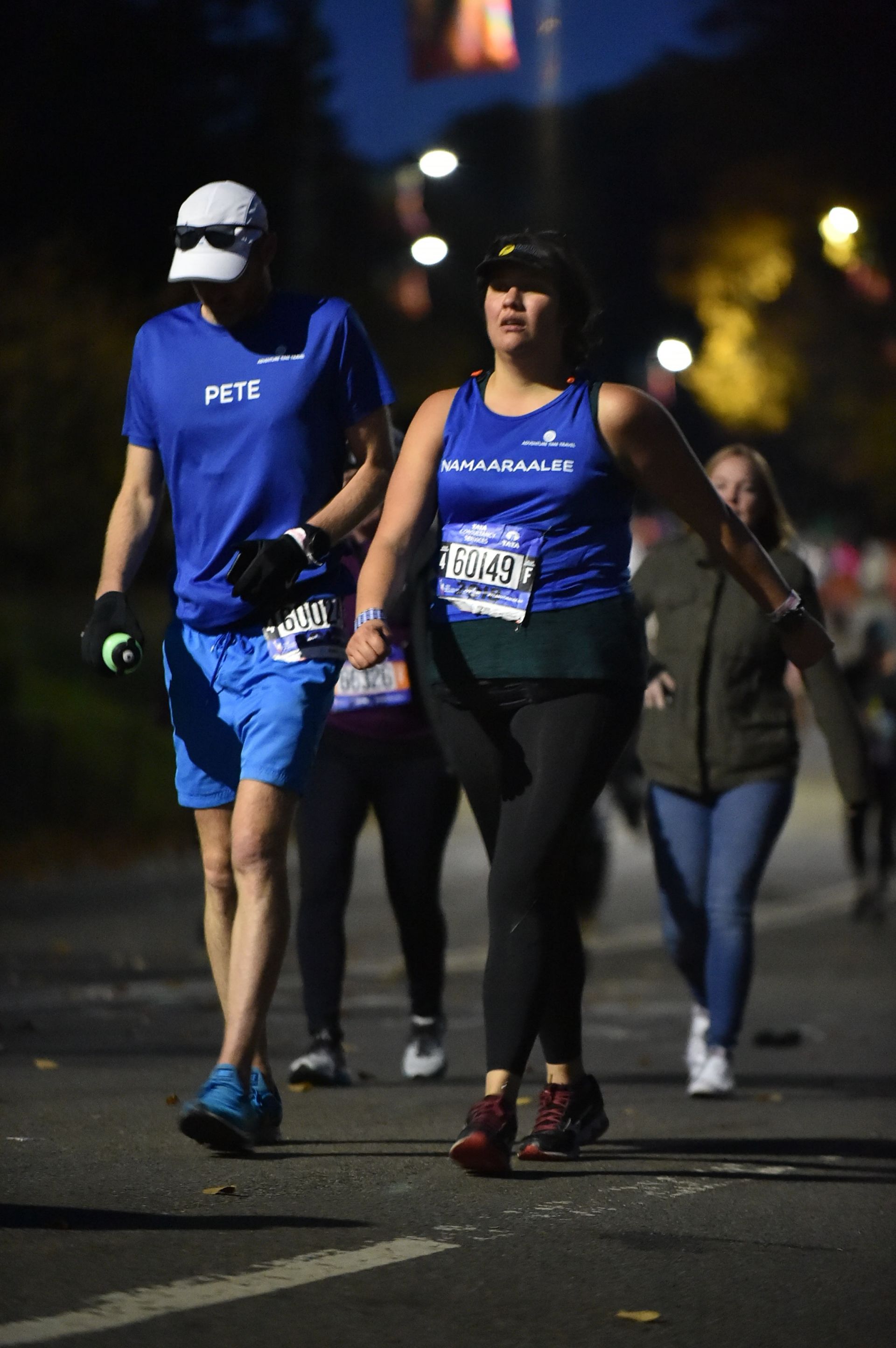 This is their story.
A woman struggling after having her second child, pulls out some old trainers and goes for a run just before dawn. She hasn't gone far when an anonymous voice shouts at her, 'Give it up Jigalong', and the voice continues, laughing at her. She's left standing on the street. Outrageous! For a split second she feels humiliated...perhaps she is ridiculous; she should go home and never try again but looking at the suburban homes around her, she wonders - who else feels like that? Who else is stuck behind those doors?
That woman is
Anna Liptak.
She came home from that run and wrote up a simple flyer asking other women if they felt the same. Within a few weeks, Anna was training women in the streets and parks around Adelaide. Women had left the comfort of their couch to run with her.

Within that group of brave women was a panorama of the private struggle that women in our time face: divorce and tricky marriages, cancer, aging, obesity, depression and immense self-doubt. Many of these women would be easily classified as 'successful' i.e., lawyers, police officers, school principals and had raised or were raising armies of children, but every one of them, however much they'd survived or achieved, was carrying some doubt about who they really were and what they could do.

A patchwork portrait of the dilemma of women around the world – mystified by why we still don't live the fullest versions of who they can be and knowing that so much of what holds all of us back, sits in the back of our own mind, working its way on self-shaming our own strong bodies and how we feel.
Now 60 of those bodies were out running the streets of Adelaide. These women weren't running away from their challenges, they were just running. They found they could do this thing that they thought they could not do, they got fitter, they got stronger, and something inside them began to change.

In November 2018 Anna challenged 60 of them to run the TCS New York Marathon with her. Only a few of them had ever run a marathon before. For all the rest, this would be their first attempt.
In a marathon, nothing is certain,
there is nowhere to hide.

You can never be completely sure your body will handle the extreme experience of running 42 km and along the way all, the things that sent you running in the first place will come to the surface, being your deepest fears and the truest dreams.
We follow this day of a lifetime with Anna and some of the ordinary and utterly extraordinary women running it with her. Hearing in their footsteps the true stories that have led them to New York, and seeing the layers of doubt rise up and finally away.
Some will surge through the finish line; some will finish late at night on the pavement long after the streets have been reopened and the race is officially over, but no one will be the same.
Meet the Creative Team & Crew
"For me, the title, 'I'm Not a Runner' is apt. Before Anna and James approached me to 'help out', I was 'Not a Director'. I knew a little bit about filmmaking but what I certainly didn't know was that witnessing people challenging their self-perception is a totally captivating experience!" Johnny has primarily worked in television as a producer across a range of programming. His speciality is comedy and he has had major influence across a number of highly popular, successful programs.
Over the years I had encouraged my fitness clients to DREAM BIG and SET BIG GOALS and they did, many achieving things they never dreamed possible. That year I was taking over sixty of my clients to the TCS New York City Marathon, most had never run a marathon before, some had never even run before.
I realised it would be wonderful to track the course of the training and allow others to witness the transformations that would unfold. The film would hopefully inspire and motivate, viewers who would be able to recognise themselves and relate to the 'ordinary' characters in the film.
I wanted to show that every BODY can achieve extraordinary things. We can stand up to what society consistently tells us; we are "not good enough, we are too old, too fat, too lazy, not pretty enough. By challenging ourselves, our bodies and our beliefs, and by being brave enough to stand up and face challenges we can revel in our own strength and achieve these extraordinary things.
James Wakelin
"This film to me is about self-empowerment. It is about having a go at something, even though failure could be an outcome and ultimately changing the story in your head about who you think you are." James is an experienced journalist and content producer. He has worked in the television and print industry for over 20 years. He is a passionate story teller.
Jordan Bianchini
Jordan is a full time Video Producer based in Adelaide, his hometown. Always on the lookout to pursue and further his video production skills.
Jordan is a keen and passionate traveller / adventurer, taking his camera to the most remote places in Australia and multiple countries around the globe.
David Banbury
David has been the editor a diverse range of projects, both in Adelaide and interstate. From television series (Neighbours, Bony, Beyond 2000, My Restaurant Rules, Croc College, The Lost Tools of Henry Hoke); to documentary (The Cause of Mary MacKillop, Sacred Journey, The Last Whale, Ayen's Cooking School for African Men, The Love Market, Sons & Mothers, Buckskin). David has edited award winning drama short films (Love from Guy, Moustache), the feature documentary Damn Right I'm a Cowboy (2003) and Sons and Mothers (which premiered at the 2013 Adelaide International Film Festival) and the features A Second Chance and, most recently Touch (world premiere Sydney Film Festival 2014).
Michael Fatoulis
Michael is a passionate 23-year-old man with a love for video editing and animation. His love for content creation started back in high school when he first started up his YouTube channel which consists of animated Japanese comics and comedy sketches with heavy editing behind them. He currently works in the news industry as a Media Exchanger and News Editor. Needless to say, editing is not just something he does for a living, but is something he deeply cares about.
A fun fact would be that this documentary actually inspired a proper working out and running routine which, he still follows to this day!
Marika Yacoub
Marika Yacoub was 53 years old when she took on the New York Marathon. She is a police officer and mother of five. When Marika's husband left her, she had five young children and was working a part-time job. She was at the crossroads.
Marika knew she had to make a choice between wallowing in self-pity or getting on with her life. While it was hard, with many ups and downs, she chose the latter.
Marika's road to New York faced financial, mental and significant physical hurdles just to get to the start line - overcoming a full knee construction just 12 months before the race.
Namaaraalee Braun
Namaaraalee Braun is a proud Aboriginal woman who has three children aged 15, 12, and 9 and has a husband
Pete 43.
Namaaraalee is an Aboriginal Family Practitioner working in a parenting program in Adelaide supporting first time mothers antenatally and in the months after they've had their child.
At 37 years old, Namaaraalee realised she had put the last decade into her family and neglected herself. She then made the decision to get up off the couch and get back into exercise, something she had not done in 20 years.
Margaret Liptak
At 73, Margaret Liptak is a retired Rehabilitation Councillor. She is a cancer survivor, having battled breast cancer in 2014. She is a mother of four and grandmother to 10 children. Margaret has been going to her daughter's fitness classes on and off for 10 years. For Margaret it's an important part of keeping her in a positive frame of mind. Margaret viewed New York as her first and last chance to run a marathon.
Ann Collins
Ann Collins was 53 years' old at the time of the marathon. Ann turned to exercise at a particularly challenging time in her life, to try and help her deal with depression. Through running she found a supportive community that has introduced her to many new friends and adventures.
Having committed to a year of 'yes', especially to things outside her comfort zone, when the opportunity to do the TCS New York Marathon arose, initially she said 'No', a number of times. When asked a third time, she finally honoured the 'year of YES!' and took the leap. She does, however, continue to question the sanity of committing to not only running 42.2km, but the work required to get there. In the final lead up, the long runs also provided a space to process the shock and grief of the sudden death of her beloved niece shortly before the marathon.
Jodie Hamilton
Jodie Hamilton at 50 needed a challenge to get her motivation back, and running the TCS New York City Marathon fitted the bill.
Jodie is married to Andrew, who joined her in the New York quest. She also has three children who at the time of the marathon were aged 23, 21 and 19. For Jodie, doing a marathon was about doing something for herself and silencing the "self-critical voices" in her head.
Watch an online interview
An interview between Kelly Roberts
& Anna Liptak
"Meet Anna Liptak- Runner, coach, star and producer of the INSPIRING AND INCREDIBLE new running film, "I'm Not A Runner". The film follows five women who go from couch to marathon over the course of a year. If you're looking for a relatable film about ordinary runners doing extraordinary things, this is it!
I got to sit down with Anna to talk about the film, the 5 amazing women who tell their stories, and why she wanted to bring this story to life". Kelly Roberts, Badass Lady Gang
"This film will remind you anything is possible."
Kelly Roberts
Founder 'Badass Lady Gang'
"Be prepared to ride the emotional highs, lows and everything in-between with these inspirational women."
Jess Trengrove
Olympic Marathon Runner
"What happens is extraordinary, because when ordinary women run, they become extraordinary."
Kathrine Switzer
Boston Marathon (1967)
Winner NYC Marathon (1974)
Author of Marathon Woman
Feedback on the film.
Amazing women with such determination and courage." | "If you feeling like an ordinary person this film will change your mind"



If you haven't watched the film yet, please click on the link below.